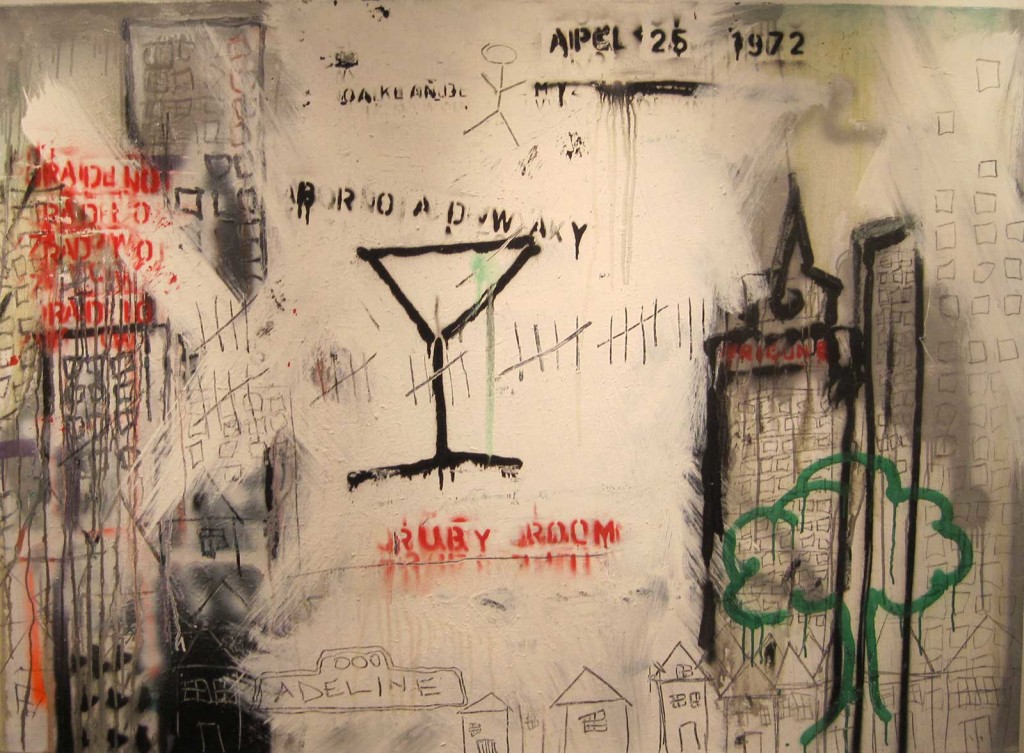 Born: Oakland,CA
Education: University of California at Berkeley
Matthew Olyphant is a California based artist. His works are extremely visually engaging and manifest from his personal experiences, travels, and life events. His paintings explore the tensions that often exist between humans and their surrounding environment. Matthew uses environment, memories, thoughts, and emotion to create his visual pictures. Composition, based largely on shape and movement, plays a role in creating that sense of tension and harmony. The paintings are layered with content and color, spiky lines covering dramatic conflicting colors, misspelled words and phrases shared space with vague scratchy characters and city scapes that come alive. Color and texture function to reveal mood and gain a reaction by the viewer. Relationships among the colors suggest harmonies and discord among people and their environment.
Matthew's paintings have received national and international recognition and are displayed throughout the world, with works displayed in the United States, London England, and Singapore.
Original Artwork & Commissions
Matthew Olyphant exhibits and sells original artworks and also does original artwork on a commission basis. Please contact us if interested in commissioning a painting. Commissions start at $500 and can go all the way up to $15,000+.
Original artwork can also be purchased at Matthew's art shows or directly through the artist
ARTIST REPRESENTION
ALLYCE ART, Mill Valley, CA. http://www.allyceartadvisory.com/galleries/14-matthew-olyphant-gallery/
CODAWORX, Madison, WI. https://www.codaworx.com/profile/matthew-olyphant/257
CORPORATE ARTWORKS, Chicago, IL